•

DIRTBAGS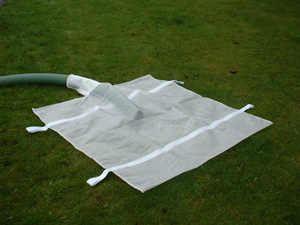 The standard size of the Dirtbag is 1.5m2 giving a filtration area of 4.5m2 allowing a flow rate well in excess of 4600 l/min or the pumping capacity of a 6" pump.
The Dirtbag can be used in various applications in its' raw form, as the shape & size of the bag can be determined by the end user and as Dirtbags are manufactured in the UK we can make them any shape or size to suit your exact site requirements.
Unlike other sediment control units the Dirtbags are NOT RELIANT on pumping speeds or settlement times and the bags will help retain solids from your pumped water.
The Dirtbag is fitted with a standard 10" elasticated collar which will fit around any size delivery hose or connector and you simply pump the water into the Dirtbag, the water runs through the bag which catches the solids in the water.
Dirtbag in its traditional 'envelope' form: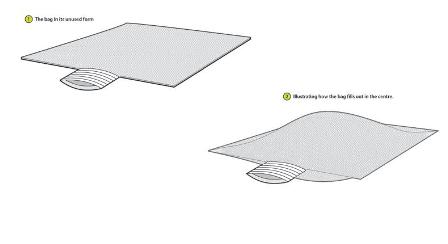 Click on image to enlarge
Dirtbags are available in 100, 200 & 500 micron filter sizes and will retain solids dependant on the filter size of Dirtbag used.
How it Works
The image below shows the Dirtbag laid on the ground whilst water is being pumped through it. This is an easy solution if your site conditions allow for site water to run away and find its own course.
The solids are retained in the Dirtbag which allows the water to flow away.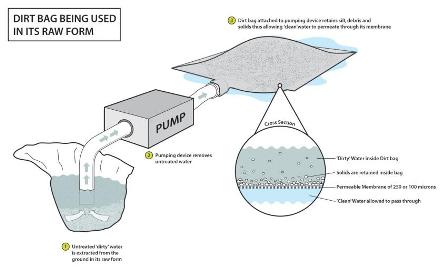 Click on image to enlarge
Once the Dirtbag has filled with solids and the Dirtbag no longer allows adequate water flow (i.e. blinded off), it is simply disposed of in accordance with your on site waste disposal guidelines and another Dirtbag is used.
"Simple"
Utility Bag
The utility bag was purpose made for small mobile street works and its simplicity has proved to be very popular with street works and utility contractors.
The Utility bag is simply laid at the kerb side, before the road gulley and trench water is pumped through it which catches the solids before reaching the drainage system.
The bag can be turned inside out and re-used and is easily stored in the gang's vehicles or PPE kits until needed again.
The utility bag measures 1m x 300mm and its 10" elasticated collar means it will accept any size delivery hose.
"Dirtbags are manufactured and distributed in the UK so we can make any size bags to suit your exact requirements"
DIRTBAGS KEY ADVANTAGES:
Simple & Easy to use, light & compact for easy storage, bag can be made to any shape or size with 100, 200 or 500 micron filter sizes, 24 hour delivery if required, Indefinite shelf life, no cleaning up required just dispose of the bag once it's full, simple order and delivery process, 50 micron Dirtbags are available for certain applications on request
"The Dirtbag does not rely on pumping speeds or settlement times"